---
UbestWorkwear Work Shirt

Our durable work shirts for men come in short sleeve & long sleeve styles. Traditional work shirt features a generous cut through shoulders and chest to give you plenty of room for movement. It has a square tail design that looks good tucked in or hanging out. It's crafted from our sturdy poly/cotton, twill work cloth woven for durability and longevity. Cotton/poly blend of easy care stain release wrinkle-resistant fabric. Our shirt will also help you stay dry with its moisture-wicking properties. For added utility, two chest flap pockets with button closure provide storage on the job.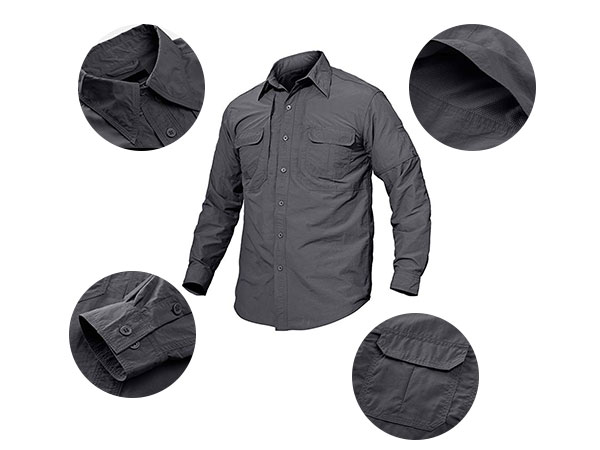 - Abrasion resistance, scratch, breathable, UV protection, resist stains and dries quickly
- Bundle patch chest pockets, long sleeve
- The back with mesh design, enhanced ventilation for warm climates, dress shirt style placket
- Good idea for Hiking, Climbing, Camping, Hunting, Fishing, mountaineering, Shooting, Cycling, Adventure Travel, Training, etc.
- Provide OEM & ODM
About Us
We are manufacturers of specialized industrial and commercial workwear, providing protection and comfort to workers in many industries with our heavy-duty garments. Our specialized designs guarantee that you will have the perfect outfit ready to go through the toughest of jobs with you.
We listen carefully to our customers and continuously improve our range by designing and using new materials as well as developing functions in our products. Our extensive and unique collection of workwear protects people all over the world in diverse industries such as oil and gas, welding, mining, agriculture, transport, chemical, construction, warehousing, manufacturing and much more.
Product Summary
Men's Work Shirts Long Sleeve/Short Sleeve
Men's Uniform Shirt
Men's Flannel Work Shirts
Men's hi-vis Work Shirts
Get In Touch
Tel.: +86 312 3113 390
E-mail: https://www.ubestworkwear.com/
---